Our business was founded in 2004 by partners in life and in business, Khun Kim and Martin.
Kim, the real inspiration and beating heart of our restaurants, grew up in rural Khiri Mat, a village in the Sukhothai province of Thailand where her love for cooking stemmed from cooking with her mum.
At the age of just 15 with big dreams and an entrepreneurial spirit, Kim left her village for the busy streets of Bangkok. Kim's main passion has always been food and so, in 1993, she set up her first Pad Thai cart. Through pure dedication and hard work, she expanded the business to run several street food stalls and won an award for the delicious flavours of her Pad Thai recipe. This very recipe is still proudly used across our restaurants today.
Kim and Martin met whilst Kim was working on that very stall in 1997 – and shortly after she moved to Leeds, Martin's hometown, and the location of our very first restaurant.
Although the setting may have changed, the passion and soul behind our concept is beating as strong as it once was in the small village of Khiri Mat. Our goal is to deliver a taste of Thailand for you to fall in love with as much as we have. Experience true Thai culture, flavours and experiences together at Chaophraya.
We are proud to L.O.V.E
Live Our Values Everyday
We continuously work as a team, always supporting one another, 'rolling up our sleeves' and using our initiative to make things happen.
'Ow Jai Sai'
Care From The Heart
Everything we do, we do so with heart - from the training of our team, the preparation of our dishes, the selection of our heritage surroundings and so much more.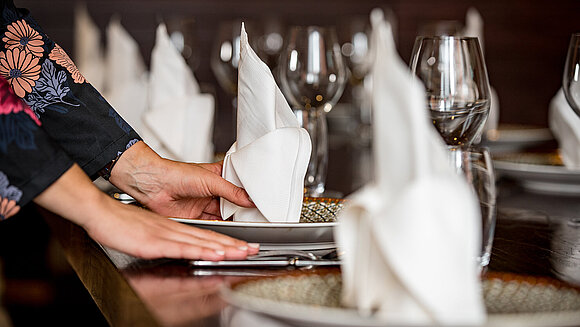 'Ha Dao'
Service Excellence
Believing in and delivering a five star experience for our guests, every single time.
As Thailand may also be known as the Land of Smiles, it makes it imperative for us to have fun and enjoy the journey. That's why Martin and Kim have named their dog after this very value – Sanook!