Thai food to your door.
Delivering flavours from the beating heart of Thailand through collection and delivery.
Our group of family-owned restaurants, in Aberdeen, Edinburgh, Glasgow, Newcastle, Leeds and Birmingham, might be closed for the time being but that isn't preventing us from providing our guests with a window to Thailand - through our Chaophraya at Home options.
Khun Kim, amongst our talented menu development team, has curated a specific menu for you and your households pleasure. With flavours from the North of Thailand right down to the South, let us take you on a culinary journey with our most popular Thai dishes available at home.
Let's start from the beginning, shall we? With 2020 being, we must admit, a challenge that we didn't anticipate would have such an impact on the industry and world as a whole, we did our very best to ensure we survived. Our aim for this year is to not just survive but to thrive. Our key goal was to create an all-encompassing experience that you could enjoy, in the comfort of your home, just as much as you usually would in our restaurant through service, food, experience and our personal and premium touches.
We have partnered with Deliveroo and Orderswift (click & collect) to satisfy your cravings every day of the week. After a mass amount of interest in our services, we expanded our radius in our key locations and it just keeps going!
Khun Kim, the beating heart of our brand, lives and breathes all things food. Every one of our dishes has been carefully crafted in the heart of her own home. You can read more about out Founder story here. With some flavours you may recognise such as ginger and chilli, and others you may not, such as galangal and lemongrass, every dish embraces our Four Essential Flavours of Thai Cuisine. Our Royal Lamb Massaman Curry and Chicken Pad Thai are keen favourites however we do have some re-imagined Thai dishes on our menu for you to try if you fancy something a little different. And, don't worry – we have vegan and vegetarian Thai food options available too!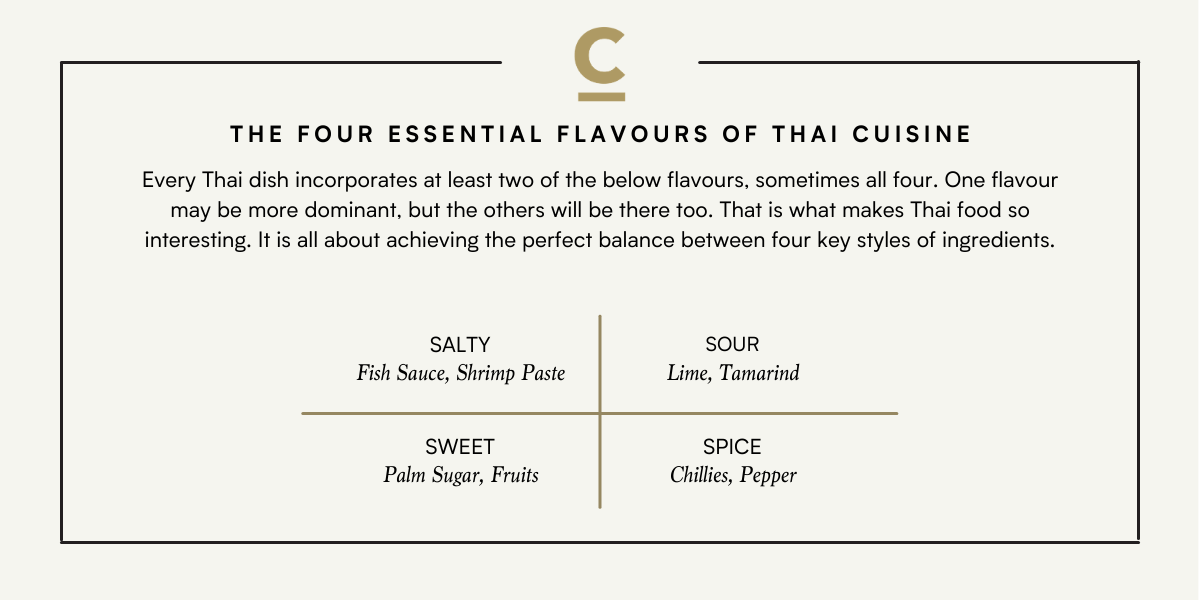 You may notice on each and every dish that you receive, we have proudly stamped these with our Service Excellence value. Ha Dao (Service Excellence) is one of our four core brand values, which each Chaophraya team member boasts, alongside Samakee (Togetherness), Ow Jai Sai(Care From the Heart) and Sanook (Fun).
If you have dined with us before, you know that we provide a second to none experience for all of our guests throughout the whole customer journey. We didn't want to lose sight of this just because we can't be with you to enjoy your order. We have specifically designed an experience for you, at home, to provide a true taste of Thailand (not just by our delicious food options!) Alongside our eco-friendly bio-degradable packaging, our welcome from Khun Kim and hand-selected playlist are available to achieve just that.
We would like to take this opportunity to thank you for your continued support and loyalty throughout this unprecedented time. We cannot wait to welcome you back when it is safe to do so.
From our family to yours, team Chaophraya.